REACH February Wellness Matters Bulletin
Choose to Lose Challenge

Join the Choose to Lose Challenge to get fit, lose weight, and feel great!

Registration for the challenge will be available from Feb. 1 to Feb. 14. You can register individually or as a team by clicking on the Registration tab on the REACH homepage.

Please Note: You must register for the challenge in order to participate.

To complete the challenge and earn 25 Healthy Habit Points, you will need to report one weigh-in each week before the challenge ends on April 11 (eight total weigh-ins). You will have until April 18 to finish reporting your activities.

Keep your eye out for weekly emails with tips and motivation to help you make the most of the challenge. Be sure to explore the wellness portal as well for resources and tools to keep you going.

You can record your activities on your desktop or mobile device. Visit the REACH portal and click the Challenge tab to begin recording your activities on Feb. 15!
Employee Wellness Department Key DatesFeb. 5: Wear RED Day to raise Awareness of Cardiovascular DiseaseAug. 31: REACH Level 1 Deadline!Contact the Employee Wellness Department to schedule a Wellness Wagon visit to your departmentDon't forget to visit the new lavender room which is located in the Room of Magic 3rd floor, door code 8507
New in 2021!
COVID-19 Vaccinations:
COVID-19 vaccinations will earn you points towards your incentive! Upon vaccine administration, you will be automatically awarded 60 Health Habit Points towards your Level 3 incentive.
If you received a vaccine outside of Riverside, please email documentation to the REACH Program at Reach-Administration@RHC.net. Documentation should include the dates of both doses you received. Points will be awarded within seven business day of submission.

Spouse Incentives:
Spouses can now participate in Levels 2 and 3!

Spouses that complete Level 2 before Dec. 15 will be entered into a raffle for a chance to win an Apple Watch.

Spouses that complete Level 3 before Dec. 15 will be entered into a raffle for a chance to win a $50 gift card.
REACH Portal Spotlight
National Wear Red Day
National Wear Red Day On Friday, Feb. 5 we're kicking off heart month on National Wear Red Day by painting the Riverside Healthcare region red! This national movement spreads awareness of cardiovascular disease so we can all live longer, healthier lives. Join our entire staff and wear red on Friday, Feb. 5!
GET THE APP NOW!
The Asset Health Mobile App is available for Apple and Android devices. It has never been easier to take your REACH wellness program on the go!

Activating the app is an easy three-step process:

1. Download Asset Health Mobile from the App Store or Google Play.
2. Open the app, tap Begin Activation, then follow the instructions to enter the authorization token and the email address associated with your wellness account. (You will need to sign in to your wellness account on your desktop or mobile device to complete the authorization process.)
3. Set your four-digit PIN. You will use this PIN to access your app from now on.
LOOKING FOR GOOD: 4 STEPS TO FIND THE POSITIVES IN A BAD SITUATION

Unfortunately, that puts you on track for a downward spiral. Thinking positively not only feels better than thinking negatively, but it also helps you find ways to improve your situation! Of course, it's easier said than done. Here are four steps you can take to start looking for the good things:

Identify what's going on. What's making you feel bad right now? Maybe it's a situation, or a negative thought you keep struggling with.

Reframe. Even though the situation is hard, is there something you have learned from it or some other silver lining? If you could go back and change the original thought, what's a healthier thing you can say to yourself? For instance, if you've just lost a loved one after they have been extremely sick, does it feel healthier to think about their death as an end to their pain?

Practice gratitude. Are there other things going on in your life that you are thankful for? This doesn't have to be related to the situation you're focusing on. For instance, you can be thankful for your good health, having a stable home to live in, or a recent promotion at work.

Once you've found some positives, remind yourself! How can you reinforce your reframed thoughts and remind yourself of what you are thankful for? Make a list of ways. For example, put them onto post-it notes and stick them in places around your house as visual reminders.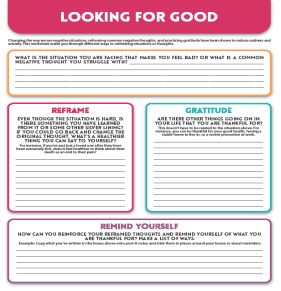 REACH Goals for 2021
Deadline Level 1 Aug. 31

1. Take the Health Assessment on the REACH Portal or App Now.
2. Schedule your Wellness Visit with your primary care physician now. The deadline is Aug. 31!
3. Familiarize yourself with where you can draw your labs. These need to be done about five days before your physician's appointment.